Tweaks to make Galaxy S4 even better!
By now most of us will have known the cool features of Galaxy S4 from the abundant news and mass media. In this post, I will be sharing on how to make the already awesome phone even better.
To make Touchwiz look good, Samsung created some animations to transit between screens. These animations take some times and can make your phone seems slow. The solution is to go in your phone Settings-> Developer options and turn off -> "Windows animation scale", "Transition animation scale" and "Animator duration scale". Now check how much snappier your phone is.
If Developer Options is not enable go to SETTINGS->About Phone and tap BUILD NUMBER for 7 times.
You can also turn on "Force GPU rendering" but SOME applications don't like that, so you can try it, but if you find you start having problem with some of your applications, turn it off.
1) 2 finger notification vs normal 1 finger.
2) Mute Phone – Flip down or cover sensors
3) Colors more natural settings display, screen mode prof photo
4) Deactivate S-Voice if u want NO lag on home button - go S-Voice settings
5) From contacts can swipe left or right to SMS or call respectively
6) Air Gestures works in the dark - Speed dial, internet etc
7) QR code – business cards (first name last name) – translator in built to text msg and optical reader
Put your Sounds in the system.
The Samsung Galaxy S4 allows us to use mp3 as ringtones, alarms or notifications. But if you have over 16G of music on your phone it might be annoying to "Go To Files" and search for them. Another way to do it is by creating a folder where Android will automatically look in and put the files in the "Ringtones". To do this just create a folder called "Media" on your sd-card. Inside the Media folders create 3 more folders "Ringtones", "Alarms" and "Notifications". It should look like this.
Media..
--------Alarms
--------Notifications
--------Ringtones
Now move/copy your mp3 files in the according folders. Now if you go on your phone settings->sounds->device ringtones you should see your mp3 files in the list.(Phone restart might be needed)

Remove unwanted media files
To remove unwanted media files (pictures, audio) that do not belong in the gallery or in your music player, just create an empty file and name it ".nomedia". Place a .nomedia file at the root of any folder you don't wan't to see appear in your Gallery or Music player. Android will skip scannnig those folder. You can always open those files later by using a file explorer.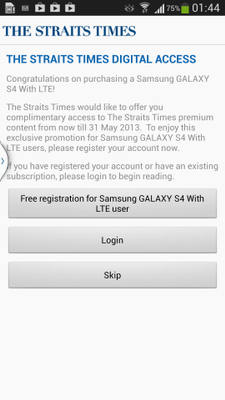 Other Free Auto Subscription
1) 48GB of Dropbox space!
2) Free Straits Times Subsciption till end of May(or even longer). Instructions here.
3) 1 free pre-selected app when you 1st login into Samsung Hub (I got the full fruit ninja free)
If you happen to know a few more tips for Galaxy S4 please drop some comments below.
http://yul000.wordpress.com/