Should you get a Samsung Galaxy S4?
It's a good time to follow these posts for those of you who are scratching your heads as to which phone to buy for a recontract. I would like to share my findings on the latest and greatest phones that have just been launched. Lets set aside individual preferences to the way we use our phones and how our phones physical appearance. S4 seems to stand at a class of its own when we compare primarily on the specs and features. (at least from what I gathered from the rumors and speculation)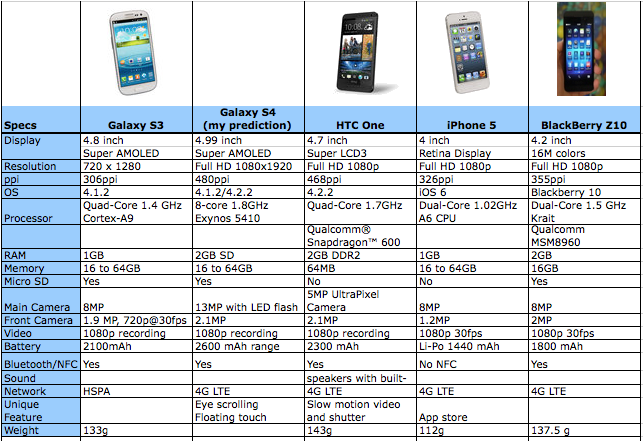 Please note that the S4 specification are taken from speculations online and might not be true during the launch. Looking from the above predicted statistics, S4 manage to beat all the other phones in the market. I guess Samsung's focus is always going for bigger and better. (Actual S4 has 441 ppi, which is sligtly lesser than HTC One)
The only question now is whether Samsung can provide unique features like gesture controls and eye tracking. Check out a comprehensive online prediction of S4's features here.
Lets wait eagerly in a few hours to see if these online speculations are true. (I personally love to listen to cnet's opinion on the S4 launch event). Hope this post helped to make those prelim purchase decisions easier.
Cheers.

Samsung S4 will be retailing on the 27th April. Be one of the 1st to own it! Click here to find out more
http://yul000.wordpress.com/