Ways to Top up your StarHub Mobile Prepaid SIM Card
Need to top up your StarHub Mobile Prepaid SIM Card? Worry no more, you can now top-up anytime, anywhere at your own convenience via online and other top-up channels.
Top Up via StarHub Prepaid App
STEP 1: Enter the prepaid mobile number and click "Request OTP."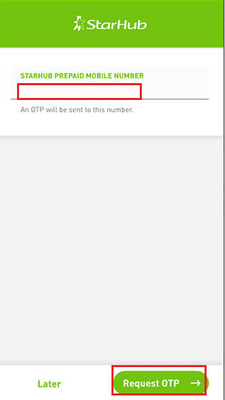 STEP 2: Input the OTP that will be sent to the prepaid mobile number.
SETP 3: Click "Top-up" to top-up the main wallet or click "Package" to choose other add on.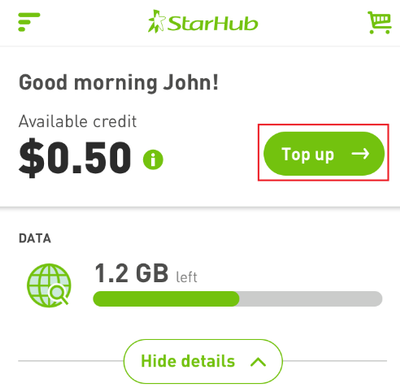 STEP 4: To top-up for the main wallet, proceed to Top Up Main Wallet via StarHub Prepaid App.
STEP 5: To have other add-ons, customer to select the preferred add-on and proceed to submit.
STEP 6: A confirmation SMS will be sent to the prepaid mobile number once the add-on is activated.
Top Up via StarHub Website
STEP 1: Go to https://topup.starhub.com/topup
STEP 2: Key in the prepaid number that needs the top up and click "Verify."
STEP 3: Select the top-up amount or plans.
STEP 4: Choose the payment type and enter an email address
STEP 5: Scroll down and check on the box and click "Next."
STEP 6: Fill up the relevant information as required.
STEP 7: A confirmation message will state that the top-up amount/plan was successfully added to the prepaid mobile number.
Top Up via WhatsApp
Step 1: Send a WhatsApp message "Hi, I would like to top up my StarHub Prepaid Number" to 83528552 / 91400004
Step 2: You will receive a reply requesting the following details before the top-up can be processed.
StarHub Prepaid number
StarHub subscriber name
Top-up amount
Payment method (PayNow/Bank Transfer)
Step 3: Reply with the above details.
Step 4: Thereafter, you will receive a reply on the payment instructions.
Step 5: Make the payment and reply to inform that payment has been made.
Step 6: You will receive a reply acknowledging payment has been made and top-up will be done within the next 1 hour if payment is received between 9am - 6pm daily. For payment received outside of 9am - 6pm, customers will receive the reply within 3 hours of the next opening hour.
NOTE: This top-up channel via WhatsApp is managed by our authorized vendor and will reply between the daily operating hours from 9am - 6pm.
If you don't have a data or WiFi connection to top up online. You may refer to this link to check the other top-up methods via shops.
~ Carla
▬▬▬▬▬▬▬▬▬▬▬▬▬▬▬▬▬▬▬▬▬▬▬▬▬▬▬▬▬▬▬▬▬▬▬▬▬▬▬▬▬▬▬▬▬▬▬▬▬▬▬▬▬
Some of my posts, opinions and views here do not reflect my position and StarHub's opinions.
For account related matter, please seek help from our Customer Service team via
Facebook Messenger.
Have a good idea? Tell us at our
Ideas Exchange!