A Look between StarHub's SmartWiFi and Smart WiFi Pro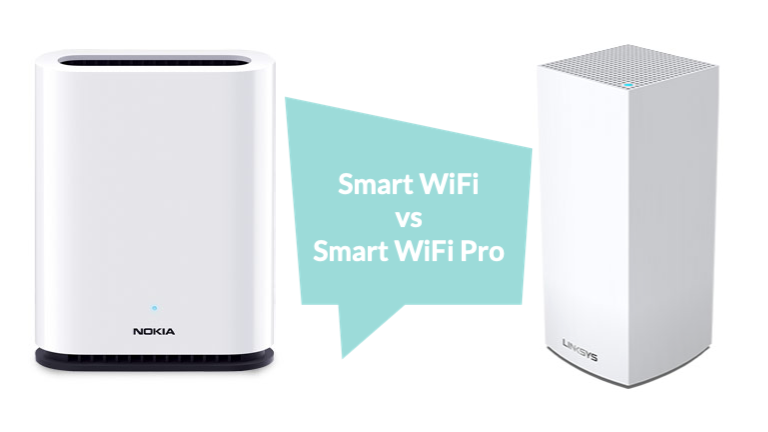 An internet connection is a necessity for every home nowadays, right? We always connect with our loved ones, must get through work-from-home workload, and enjoy a little R&R with our favourite shows and movies. That's why you need the best broadband plan for your online activities! Good thing, you can enjoy the best WiFi coverage with StarHub's Smart WiFi and Smart WiFi Pro!
Get a FREE Smart WiFi worth $199 for new sign-ups to 1Gbps Fibre broadband plan. On the other hand, sign up or recontract to 2Gbps Fibre broadband for a FREE Smart WiFi Pro worth $399.
Can't decide which router should you get? Well, here are the reasons to help you choose which best suits your needs.
Smart

WiFi

Smart

WiFi

Pro

Coverage

Its intelligent self-organizing mesh and built-in edge analytics deliver optimal wireless coverage.

Moreover, its Dynamic Frequency Selection band provides additional 5GHz channels, enabling better performance in a router and helping to improve the internet speed.

Its intelligent Mesh technology, combined with WiFi 6, is designed to deliver gigabit WiFi speeds to cover every corner of your home. The WiFi 6 allows having 40+ connected devices at gigabit WiFi speed.

The best part is it provides 4X more speed compared to the WiFi 5 standard.

Installation/Set-up

Installation is

e

asy

as plug-and-play.

With the Nokia

WiFi

app, you can manage parental controls, view connections strength, and see connected devices.

Setting up is very straightforward. The Linksys app lets you conduct speed tests, allows you to set up Parental Controls, manage

s

devices that need mot speed.

Design

It looks smart and sleek allowing you to place it anywhere in your home. Its classy appearance can fit along with any type of home decor.

It

's

sleek, which doesn't occupy too much space, fits anywhere and

can go along

with your home decor.

Units of Smart

WiFi

/Smart

WiFi

Pro based on housing type
What are you waiting for? Sign up now to our any of our Fibre Broadband plans via Online Store to get the best digital experience for work and play!
Check out these reviews of the Smart WiFi and Smart WiFi Pro from our Hubbernauts:
Nokia WiFi Beacon 1 Review: StarHub Smart WiFi in Singapore
StarHub Smart Wifi Pro - New Linksys Velop Wifi 6 Home Mesh Router (AX4200 review)
Linksys WiFi 6 Mesh Router MX4200 - Provides Solution For Poor Home Wifi Coverage
~ Carla
▬▬▬▬▬▬▬▬▬▬▬▬▬▬▬▬▬▬▬▬▬▬▬▬▬▬▬▬▬▬▬▬▬▬▬▬▬▬▬▬▬▬▬▬▬▬▬▬▬▬▬▬▬
Some of my posts, opinions and views here do not reflect my position and StarHub's opinions.
For account related matter, please seek help from our Customer Service team via
Facebook Messenger.
Have a good idea? Tell us at our
Ideas Exchange!