A holiday visit to "Golden Land" Myanmar
Year-end holiday season is here!

Me and my wife went to Myanmar for a 6-day holiday trip in October 2019. We took JetStar flight. The flight took about 2.5hours from Singapore to Yangon (former capital of Myanmar). With over 50 million population and 676,578 square kilometres in size, there are tons of places to explore in Myanmar.

Day 1
Our first stop is Mount Popa which is an extinct volcano 1,518 metres above the sea level, and located in central Myanmar. We took a domestic flight (45 mins) from Yangon to Nyaung-U Aiport. We climbed up 700+ steps to visit to the top of Taung Kalat which offers awsome panoramic view of the surroundings.
There were many monkeys along the way. Most of them are quite friendly and they were waiting to be fed by the visitors.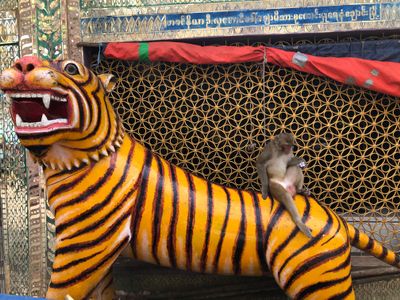 We stayed at Popa Mountain Resort which offers stunning view of Taung Kalat and gives the feel of living in the forest.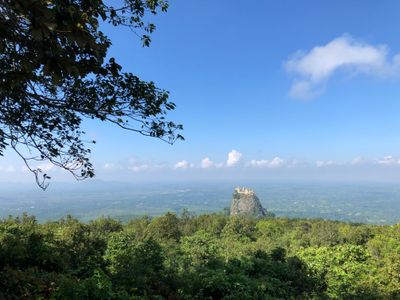 The view from the swimming pool is great. The weather is cooling during night time and in the early morning.
Day 2 & 3
We visited Bagan which is an ancient city in central Myanmar. There are more than 2,000 Buddhist monuments and temples tower over green plains and was added to UNESCO's World Heritage list in July 2019. It's about 1-hr car-ride from Mount Popa.
Most of the temples were built by the kings of Bagan between 1057 and 1287. Over the two days, we visted 19 pagodas in Bagan. Being in the central region, it was hot in the day time. The best time to visit is between November and February, when temperatures hit 30C.

Watch some of the highlights in the video below:

Bagan is popular among tourists especially during the sunset time which offers spectacular view of the setting sun against the silhouette of the temples and pagodas.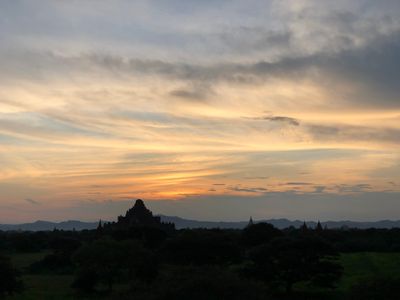 Previously visitors were can climb the staircases leading to upper stories of temples to watch the sunset but now it's prohibited due to safety reasons as well as in order to conserve the ancient structures.


Day 4
We took a short (<45 mins) flight from Bagan to Mandalay. Mandalay is the second-largest city in Myanmar, after Yangon. It is the major trading and communications hub for northern and central Myanmar. Much of imports and exports to and fro China goes through Mandalay. We visit Mahamuni Pagoda; Shwenandaw Monastery, noted for its exquisite wood carvings; Kuthodaw Pagoda, known as the World's Biggest Book for its stone slabs of Buddhist scriptures. Our day ended with watching the sunset from a vantage point on Mandalay Hill for a panoramic view of the city, Irrawaddy River and the mountain ranges.
Below is the video highlights:

Day 5
On Day 5, we ventured out of Mandalay by car to visit Sagaing hill which is across the Irrawaddy River. There are numerous Buddhist monasteries around the region. First stop was at Aung Myae Oo monastic education school which provides free education for poor children and orphans. It was founded in 2003 by the Buddhist monk Ven. Vilasa and ran entirely on donations. There are over 2500 students who are either accommodated in the school compound itself or in surrounding monasteries. There were some volunteers who were helping out at the community clinic, providing medical care. We spoke to Ven. Vilasa to learn more about the school and we made monetary contribution. After that we visited picturesque Sagaing Hills which offer panoramic view of the valleys.
In the afternoon, we took a short boat ride to Inwa (also known as Ava) which still preserves old watchtowers, city walls, monasteries, and temple of ancient times. We took a horse-cart to travel from one place to another and we felt like it's travelling back in time. We visited teak-built Bagaya Monastery, the Maha Aungmye Bonzan Monastery (completed in 1818), and the Nanmyint Watch Tower which is a leaning watch tower of 27 metres in height.
Watch the video to explore:
Day 6
We took a 1-hr boat ride across Irrawaddy River to visit Mingun. At first we thought we would be sharing the boat with others but to our surprise, our travel agency arranged for a private boat. We went upstairs, lepak and enjoyed the cooling breeze!
We visited Mingun Pahtodawgyi, a gigantic unfinished pagoda. The highlight of the day was visiting Myatheindan Pagoda which has impressive white terraces resembling the shapes of white waves. We also visited the Mingun Bell which is the second largest bell in the world weighing 90 tons.
Sights and sounds of Mingun in the video below:
Phyo
------
Go Green with Me! [Reduce, Reuse, Recycle]