Chapati and Dhal
Greetings!
I am Dora, one of the GreenR Community volunteers. During this Circuit Breaker, everyone (including my 3 daughters) advised me not to go out! To stay at home and be safe, because I am in the vulnerable senior group, i.e. in my 70s.
I would like to share with you a recipe that brings back memories from my first Foreign Domestic Worker in the 1970s. Hetti was from Sri Lanka and worked with my family for over 15 years. Time flies and I truly missed her. She is now also in her 70s. Both of us are now grandmamas!
Now, I have to cook for myself and look for healthy food, i.e. less oil, less salt and less sugar! 'Tapau' is something I don't like to do.
Chapati and Dhal go hand-in-hand. It's one of my favourite foods. Why? I can eat it at any time of the day, and it's easy to make. It is a very healthy food. For both dishes I either reduce or skip the oil, salt and sugar, and they taste just as good.
So, let's start, and I hope that you will give it a try.
SOFT CHAPATI (makes 5 pieces)
Ingredients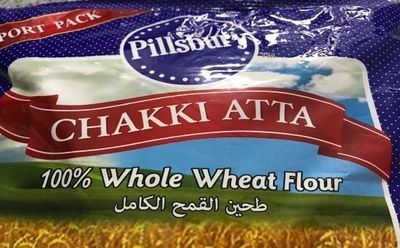 1 cup Chakki Atta flour, mix with ½ cup water (for 1st timer, reduce 1 tbsp of water); if you need more water, then add in as required, to form a dough.
PS – for a healthier dough, I skip the oil (1 tbsp) and salt (1 tbsp).
Method
1. Knead and fold the dough repeatedly into a ball for 5 minutes. Dough should be soft and non-sticky. If it sticks to your palm, sprinkle more flour on the dough.
2. Apply some oil on top of dough to prevent it from drying. Cover with a wet cloth and let it rest for 15
minutes. The resting of the dough is very important as it helps in the formation of gluten, which
makes the dough very soft and chewy, rather than being hard and stiff. For the chapati to be soft
they have to puff up while cooking. This forces air into the layers and it gets cooked rapidly.
3. After 15 minutes, remove dough, knead, fold and press the dough. Divide dough into 5 small equal balls.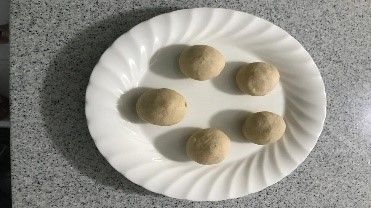 4. Now, let's roll the balls. You can start to heat the pan at the same time on medium heat.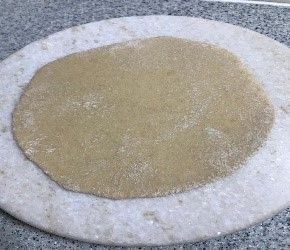 5. Take a small ball, press it and sprinkle flour on both sides of the dough to prevent sticking. Using a
rolling pin, roll the dough evenly into a big circle, turning the circle clockwise as you roll. Turn over
the dough and keep rolling evenly. Flip the dough onto your palm.
6. Pan should now be hot (put your palm above the pan to test the heat), so that chapati will puff up. Transfer dough to pan and let it rest for 15 seconds on the pan. Bubbles will appear on top.

7. Let's flip to the other side and cook for another 15 seconds. It should puff up by itself. If not, press it gently with a spoon. The hot pan keeps the chapati nice and soft.
8. Remove dough from pan and it's now ready to be served with the Dhal Curry.
Note: While chapati is taking a rest, start gathering ingredients for the Dhal Curry
Lentil is one of the healthiest foods. It helps improve digestion, a good source of protein, controls cholesterol and is healthy for the heart and also aids in getting rid of infection. Dhal curry, a deliciously mild curry is usually eaten with Chapati, Paratha, Roti Canai, an Indian influenced flat bread. It is not spicy at all, which is why it is even suitable for young children. It can also be served with bread or rice, or enjoy a bowl of dhal curry just as it is. To prepare dhal curry, remember to soak the lentils for at least 2 hours to soften and shorten the cooking time. Or boil them before cooking together with the rest of the ingredients. This will help shorten the time needed to cook the curry.
DHAL CURRY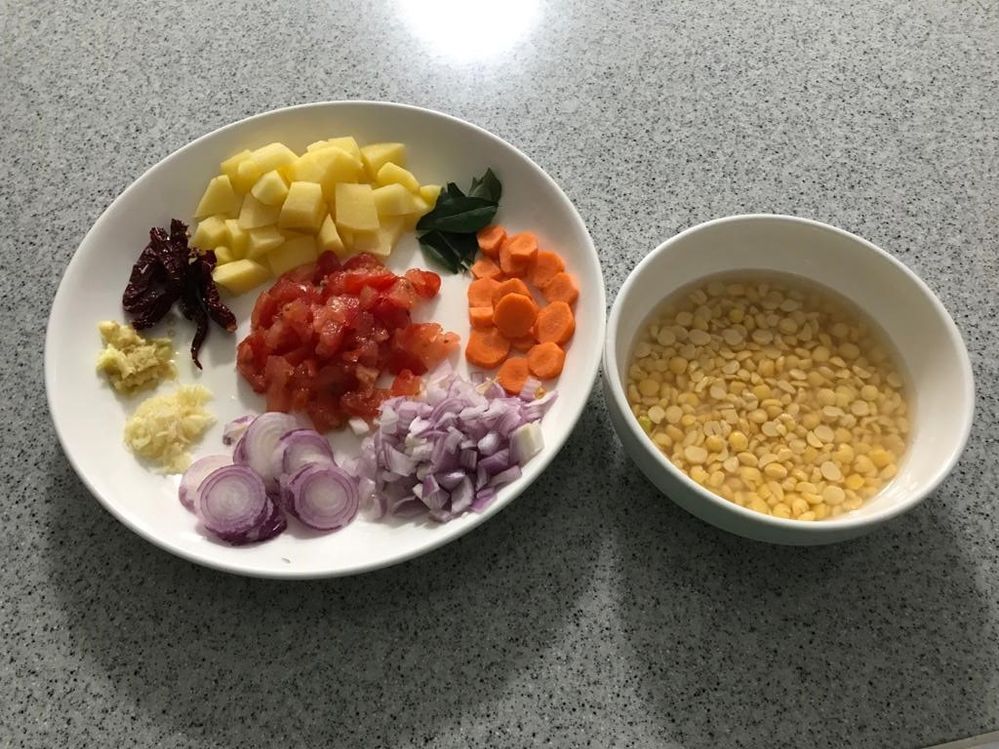 Ingredients
250g Chana dhal (Lentil), wash 3 times and soak in water for 2 hrs (keep the water)
2 Shallots (small onions), sliced in circles 1 clove minced Garlic
1 tsp minced Ginger 1 big Onion, cubed
2 stalks Curry leaf 1 Tomato (sliced into 6 pcs)
1 Potato, cut into 1 cm cubes 1 Carrot, cubed or sliced
½ tsp Turmeric power 5 dried Chillies (wash & dry)
1 tsp Salt, 1 tsp sugar 1½ litre water
Method
1. Heat 1 tbsp oil over medium heat and sauté sliced shallots (small onions) until golden brown.
Remove onion from pan and put aside on kitchen towel to absorb the oil.
2. Using same pan, fry minced garlic and ginger till a bit brownish. Add cubed big onion, dried chillies
and curry leaves and fry till fragrant.
3. Add tomato slices, stir fry for a while, then pour in a cup of dhal water and let it boils. Add cubed
potato and carrot, followed by turmeric powder, and dhal. Give it a good stir, then add 2 cups of the
dhal water and cook over high heat, with lid closed. Slowly add the balance water to the consistency
that you desire.
4. After simmering for 25 minutes, turn the fire to low. Keep stirring to prevent curry from being burnt
and check whether dhal is cooked. Add salt and sugar to taste. Remove from fire. Finally, stir in
fried onions to serve!
It's time to eat!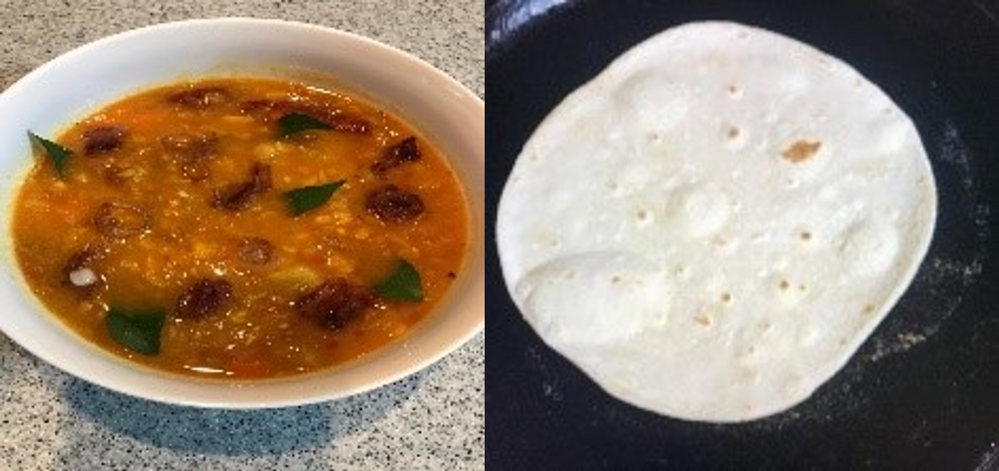 Relax, enjoy and be filled with these healthy dishes.
I am one of StarHub's Golden Gurus and I am here to help the community, especially the senior citizens. However, I am not an employee of StarHub and the content of my posts does not represent the positions and opinions of StarHub