Apple Watch Series 5 Unable to Activate NumberShare VAS
Greetings,

I'm posting this as i have contacted Starhub Hotline since the 23rd of March, and the various staff gave different technical advices and unfortunately did not solve the issue, even did so today but they have not given me a call after promising to get back to me.
Background Information of Issue
I bought the Apple Watch Series 5, Nike Edition and have been trying to set up the cellular connection to my iPhone 11 Pro Max, since the 23rd of March, and am still trying but to no avail. I followed the steps carefully but did not receive the activation SMS to show that NumberShare is successful.
Various Troubleshooting Done After Talking to Starhub Consultants
Staff thought it was the Porting Number Issue as i ported over my Singtel Number over to Starhub under my Mum's Name, i received the SMS that my temporary Starhub Number that was given is successfully changed and updated in the system.
Staff No. 2 gave me to key in these Hash Codes ; #36*1234*16# & #33*1234*16#, suspecting that it was my incoming and outgoing call/SMS issue but i receive SMS and send SMS just fine, and still did not receive that Approval SMS for successful NumberShare Pairing. Do note i rebooted my mobile and watch and removed the SIM as well.
Staff No.3 told me that they did not activate HD Voice

VoLTE on the Watch and that Starhub has to active it at the Backend which will take an hour, i waiting and tried the following day but the same thing occured.
Main Underlying Issue
Attached to this post depicts the Error i received as well as the steps i followed to setup my watch. The RED CROSS Error, only occured when i reset and remove all data plans on the Apple Watch App to re-enroll the Set Up for Mobile Data as it is always stuck at "Activating" under Starhub which is also shown in the attached images.
I sincerely hope a technical team can properly diagnose this issue as it is rather unfortunate that this is such a hassle and that i should have gotten a Non-Cellular version instead, i really look forward to any constructive help that will solve this.
Thank you.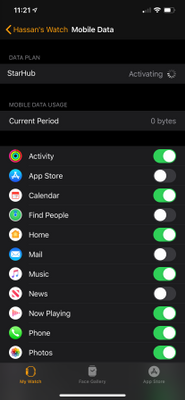 Always this way when awaiting the SMS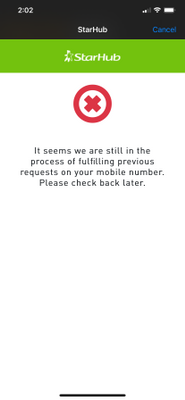 When i reset Data Plans on Apple Watch App